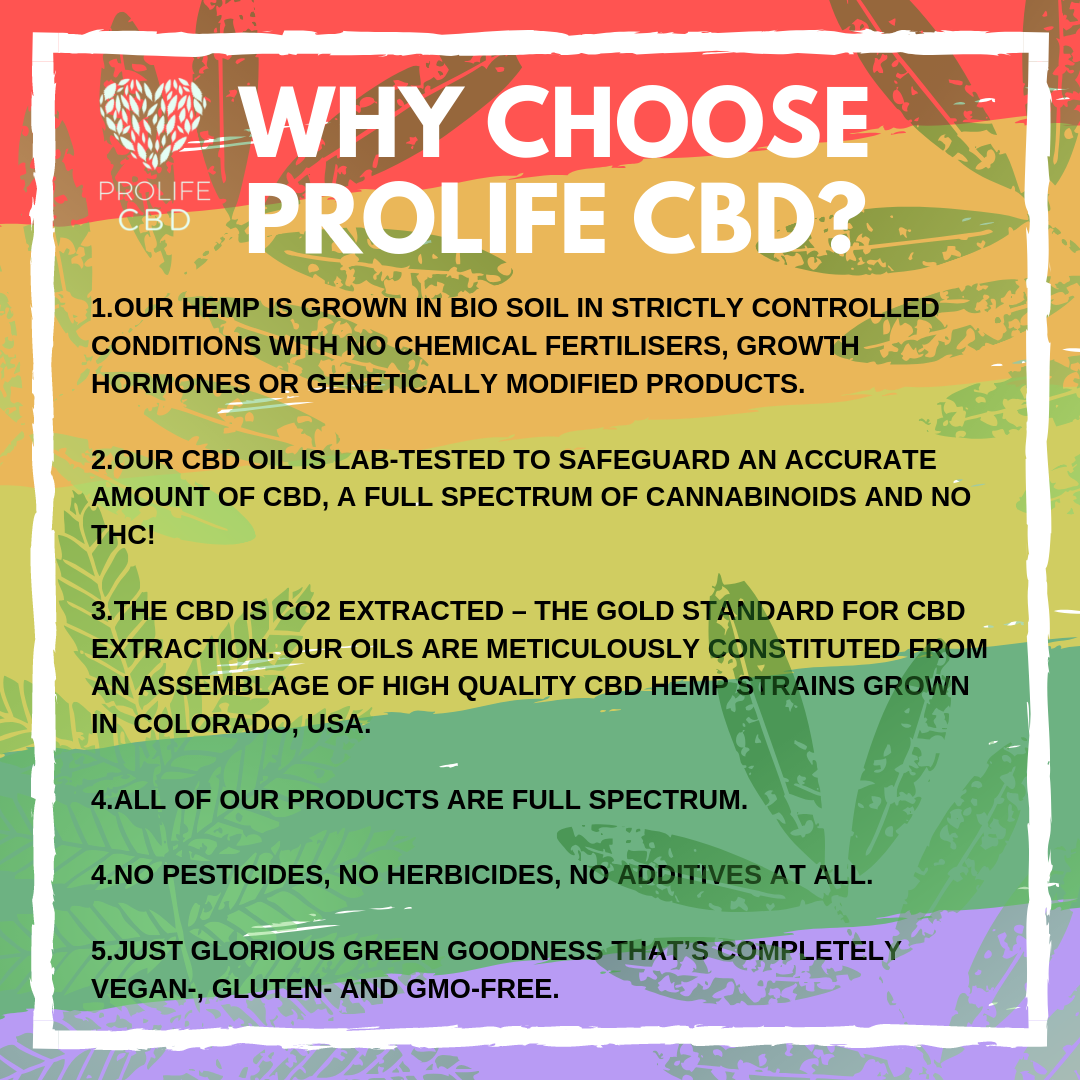 So, it's all good that knowing you want to use CBD, but following that these are the questions you will have:
-Which brand do I purchase?
-What strength should I be using?
-How much CBD do I actually need to take?
-Finally, the confusing % vs Ml vs Mg vs Oz labels it can be a nightmare trying to figure all this out!
Cherry and Toby Cavill the founders of PROLIFE CBD went through all of the above questions while trying to use CBD to assist their ailments. After struggling to find the right quality's or clarity of the CBD they were buying and getting fed up with the confusion PROLIFE CBD was born.
PROLIFE CBD's mission was to create clarity and eliminate all of this confusion to their clients while providing the highest quality CBD Oil available.  Below we will go over how to choose the right strength of CBD oil depending on the ailment that you're trying to assist with and ensure it's the quality that you want to be consuming. Thousands of people use CBD as a treatment for a variety of conditions but it's crucial to know the right concentration in order to get the best results: 
** It is important to point out that CBD is not yet an approved substance by the FDA. None of the information we provide here should be interpreted as a clinical recommendation or medical advice – we're not health professionals, and we certainly don't claim to be**
New to CBD?
New CBD users sometimes find themselves struggling to figure out how strong a CBD product really is from the information on the label. Sometimes, it's not just as straight forward as reading the number of milligrams and below we will provide some insight into what the numbers on the label actually mean.
400mg, 2000mg, 3% and 8% are all examples of the numbers and information we are used to seeing on the labels of CBD products, but which one is for you and what do they mean? Well, when you see Mg on a CBD label it typically refers to the number of cannabinoids in the product in question, but please note that this isn't the same as the total amount of CBD contained but we will discuss this later.
Why The Confusion?
What often confuses people with this number is that they will normally assume that it's the strength of the product, but it isn't really, especially if you measure your doses by reference to 'drops' or 'Ml's' as opposed to aiming for a specific Mg.  From all of our experience, clients like to know in 'Drops' so this is very Important. The reason behind this is because there is another variable that must be considered and that's the product container or carrier oil as its also known.
To give you an example, if you have a 10ml bottle with 1000mg stated on the label, and a 20ml bottle that is also stated as 1000mg, then those 2 bottles have different strengths. If you compare them drop for drop, the 20ml bottle is only half as strong as the 10ml bottle. Why? Well, they both contain the same amount of cannabinoids and this is only getting half the amount of CBD when using the 20ml bottle as it contains the same amount of CBD but diluted over double the amount of carrier oil than in the 10ml bottle. Are you confused yet?
Well, another metric that is used to try and help the confusion, is a percentage. The percentage represents the concentration (The measure of the drop for drop strength of a product.) Using the same example as above 1000mg of CBD in a 10ml bottle is a concentration of 10%. Whereas 1000mg in a 20ml bottle is a 5% concentration. As you can see with PROLIFE CBD bottles, they state both 'percentage' and 'Mg' to make things 100% clear so you always know what you are getting!
This means, to you at home that the percentage concentration is actually far more important than the total overall Mg when assessing the strength of a CBD product. 3000mgs can sound like a strong CBD strength and in a 10ml bottle as it would be at 30%, but in a 100ml bottle that is only 3%!
Earlier I was talking about how the 'Mg' stated on a product is the total amount of CBD in a product. But some suppliers actually mean that the total mg is based around a spectrum of cannabinoids and not just CBD which is known to be the most effective cannabinoid. Meaning your not getting the full bang for your buck! Now these other cannabinoids are also very effective but not as a substitute for CBD ( as this is the most expensive and effective cannabinoid), for example in the 8% PROLIFE CBD Oil you will get 8% of CBD oil plus and full spectrum of cannabinoids on top such as ( CBDA, CBGA, CBG, CBN as well as a full spectrum of other cannabinoids. 
So the 1000mg/10% CBD Oil could actually contain 600mg CBD and 400mg CBDa, rather than 1000mg CBD. This is key to know, as a cannabinoid such as CBDa has far less proven benefits to CBD. This means that someone might not be getting all of the anticipated benefits they're used to from a different product that did actually contain 1000mgs of CBD. PROLIFE CBD always lists the total amount of CBD itself to avoid any confusion and customers always know what they are getting! 
Quality is Key! Not Price!
Finally, I wanted to tell you about some other key factors to always consider when you are purchasing CBD Oil.
When walking around the stores I was recently looking at some CBD products and this was my thought process on the way round, this should give you a good idea of what you need to consider. So, on the shelf is a 6% Oil in a 10ml bottle for £29.99 which to me seems quite reasonable.
I pick up the product the first thing I look at is the label. Immediately I check the website of the company and see that there is no certification on their website and its not 0.0% THC. The current home office guideline is no more than 1mg of THC in a finished product, therefore this THC can build up in the body and as a result athletes wouldn't buy this either anyone who gets regular drug testing.
They use a European supplier; therefore, the CBD hasn't been bred for as long as in Colorado (hemp has historically been used in the past years for textiles and materials in Europe whereas Colorado have specifically bred for medicinal use) 
They have misinformation on their website whereby, it mentions CO2 extraction whereas in the picture it shows ethanol extraction and is far cheaper to do. This guarantees that it will have trace THC as a solvent from extraction and is known to not be as clean or accurate form of extraction. If some suppliers don't have the right equipment they can't fully burn off (winterise) the ethanol, therefore, can cause risk of traces of THC in the oil.
Also, I notice it mentions flavouring in the ingredients, however, they have not provided evidence of what type of flavouring they have used. The reason It's good to know this is because sometimes companies can use either PG / VG based flavouring which is known to be risky if consumed. Finally, it doesn't state either whether the hemp is organically grown or that whether it uses pesticides / heavy metals and this also concerns me.
So now we can see why this CBD oil was so affordable, we don't know the extraction methods, we don't know the THC levels, this is not 100% natural due to the synthetic flavours being added and there is no lab report to show or guarantee exactly what is in this specific oil. This to me shows that they are more about business than helping people and this is not only a shame as people will see the cheaper price point and assume it's the same quality but its also frustratingly misleading.
In contrast for PROLIFE CBD we wanted to guarantee the finest quality CBD possible, so customers know exactly what they are getting with 100% clarity! We guarantee this by cutting no corners, using only the finest machinery and processes and want to tell you about it! This is why we are currently the only CBD company in the UK to discuss this on TV to ensure the message is out there. So What do we do to ensure you only get the best CBD :
We work alongside the largest IP technological leader in the cannabinoid research, development and extraction industry; employing a large degree of engineers, chemists and clinical researchers
We have over 290K-square-feet of indoor space in southern Colorado which supports agricultural intake, processing, extraction, and post-extraction operations.
Our unique genetics provide customers with a competitive advantage and are never genetically changed or modified.
Phytocannabinoid Rich Hemp plants are grown outdoors in Colorado, producing high CBD quality hemp.
Our material purification process ensures 0.0% THC and broad-spectrum oil.
All hemp is grown with No pesticides. No herbicides. No additives at all. Just glorious green goodness that's completely vegan-, gluten- and GMO-free.
Our Hemp is grown in BIO soil in strictly controlled conditions with no chemical fertilisers, growth hormones or genetically modified products.
The Cannabidiol is CO2 extracted – the gold standard for CBD extraction. Our oils are meticulously constituted from an assemblage of high-quality CBD Hemp strains grown in the USA.
All of our CBD is lab tested to ensure that its always in line with the highest quality standards.
So next time you see some CBD on the shelf just take the above into consideration and remember that you always need to know exactly what is going into your body and bloodstream. Unfortunately, not everyone takes the same care when making CBD but if you want to guarantee the best, PROLIFE CBD has already done all the hard work, so you don't have to.